The Last Dance | Episode 9: Review| Jordan gets sick
Street Sense, 3 years ago
0
5 min

read
657
The Last Dance, a documentary series produced and distributed by ESPN and Netfix, has recently grown in popularity exponentially. The reason behind this "hype", is because this is a documentary on the NBA, focusing on the Chicago Bulls, and revolving around the MVP, Michael Jordan. Today is the last day we will be getting these episodes, as we are currently on the finale of this series. This is the recap of episode 9 of The Last Dance.
This episode starts off with a clip from a 1993 game, where the Bulls played against the Indiana Pacers. The pacers are leading by 5 points, and the tension levels are high. Reggie Miller gets the ball, and scores, getting past Jordan's defense. Adding salt to the wound, Miller goes ahead and pushes Michael, which leads to Jordan getting upset, running after him, and starting a fight between the two. Miller later said that he didn't fear Michael the way the rest of the league did. And this led them to "lock horns" frequently. We then see another clip, where Michael gets frustrated at Miller's defense, and throws the ball at Millers head, instead of shooting. Then we see another clip, this time from 1987, where Michael gets upset at something Miller said about how Michael's shooting wasn't particularly amazing. Michael immediately stepped it up and ended the game with a lot more points than Miller. While walking off stage, Michael mockingly said, "Don't ever talk trash to Black Jesus".
We then see Michael Jordan, at the end of the Eastern Conference Finals of 1998, receiving his fifth NBA Most Valuable Player trophy. This is succeeded by a clip of Game 4 of the Eastern Conference Finals, where we see Miller come in clutch with a last minute basket to tie the Bulls and the Pacers, and the whole stadium is excited. Then we see Larry Bird, who has a straight face on, because he knows that Michael Jordan is still in the game, and there is still time left. But then, Michael misses, by just a few millimeters, the ball spins out of the basket. We then go back to 1997, when the Bulls are going towards their fifth final, in seven years. Their opponent was the Utah Jazz. According to Michael Jordan, the biggest inspiration for him that series was when Karl Malone got the 1996-97 NBA MVP award, and everyone knew where this was going. Jordan didn't think that Malone was undeserving, but it still "fueled the fire in him". When Michael was playing baseball in Utah, the their team was in town to play the Bulls, and they were practicing at the facility, so Michael went in to meet John and Karl. This is when Bryon Russell comes up to Jordan, asking why he quit, and talks about how he could he could guard him, etc. Michael told Karl mockingly, that he needs to talk to this guy, and from that point on, Bryon Russel has been on Michael's list.
We then see Jordan is staying at the Marriot in Utah, before Game 5, and George, Michael, Tim, and a few "security guys" were all in Michael's room, and its around 10-10:30 at night, Michael is hungry, and there isn't any room service available. So, they ordered a pizza from the one place which was open that night. Tim, Michael's personal trainer, opened the door, and saw five people, delivering one pizza, because everybody knew it was Michael Jordan. So, all these four or five people are trying to look inside the room for Michael, but Tim pays them, and they leave. Tim has a bad feeling about that pizza, which Michael finishes alone. Michael wakes up at 2:30 at night, and he's throwing up left and right. Tim wakes up at 3 to call, and when he walks into the room, he sees Michael curled up into a ball, and shaking. Tim hurries to find the team Doc. Michael later talks about saying, "So really, it wasn't the flu game, it was food poisoning." Everyone around him, including his mom, tells him that he shouldn't play. But Michael insists that he has to, since it's game five. He insists that he can be a decoy, if nothing else, but he has to play. The Bulls start off slow, and Michael is clearly shaken with these "flu-like symptoms". But this was just one of those games that he wanted to win so badly, that he just stayed with it. After the timeout, when that whistle blew, Michael got up and played. Towards the end of the game, Michael really rose up and carried the team. The Bulls and the Jazz are both tied at 85. Michael takes a shot, and misses, but he comes back, scoops the ball up from the ground, and takes possession with 40 seconds still remaining. He passes it to Pippen and gets it back. He shoots, it goes in, and almost instantly loses his energy, falls into Pippen's arms, and the team helps him back to the bench.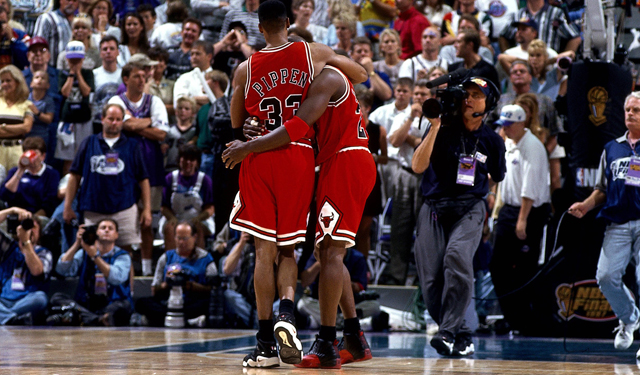 This game was just a testament to the fact that no matter what, no matter how sick he was, Michael Jordan was the best player in the world. Period. The amount of perseverance Michael showed on the court just showed his immense love for the game, for winning the game, and for his fans.
For more updates and information, keep following Street Sense.
Related posts
Hype Ryno is set to Re-define Indian Sneaker Market as we know it
At a time when the sneaker game  is rapidly gaining popularity, and more and more resellers and collectors are becoming a part of this ecosystem, The lack of a proper Authentication system and resale forums have caused inconvenience to a lot of enthusiasts; but not…
Upcoming Yeezy Releases For 2022
As we step into 2022, the past year hasn't exactly been a cakewalk. The virus continues its presence with habitual lockdowns and strict norms all over the country. Despite this, the sneaker culture slowly but surely experienced a good number of new collaborations, album releases,…