These Travis Scott Brand Collaborations of 2020 is Worth All Your Bread
Street Sense, 2 years ago
0
7 min

read
1321
From Days Before Rodeo to Astroworld, Travis Scott's trajectory has been nothing but upwards — every album and single doing well to increase the artist's cultural significance. In a year that has stilted the release of massive albums and halted the live music industry, Travis Scott is one of the few musicians who seem to be doing better than what he was before — if that's even possible. Although Scott is known globally for his hit records such as "Sicko Mode," "Antidote," and "Highest in the Room," he's also become well known for his high profile collaborations with major corporations.
Travis Scott's PlayStation x Nike Dunk Low
The first look of this three-way collaboration was shared in an ad for the Sony PlayStation 5, the ad appeared in Black and White, which didn't allow a peek at the specific color palette. After unveiling the ad, Sony announced that Scott has joined PlayStation and the Cactus Jack collaborations are on the way. This shoe sports a clean cream/grey colorway, and bears all the hallmarks of a Travis Scott sneaker, namely his signature, reverse Nike swoosh on the outer side of each shoe, the Cactus Jack brand logo on the inner heel, and a nice hit of dark green as seen on the Nike Swoosh, laces, and sock liner. The off-white outsole sports the "PlayStation" wording both in English and Japanese. Capping off the design is the Sony logo etched on to the upper heel.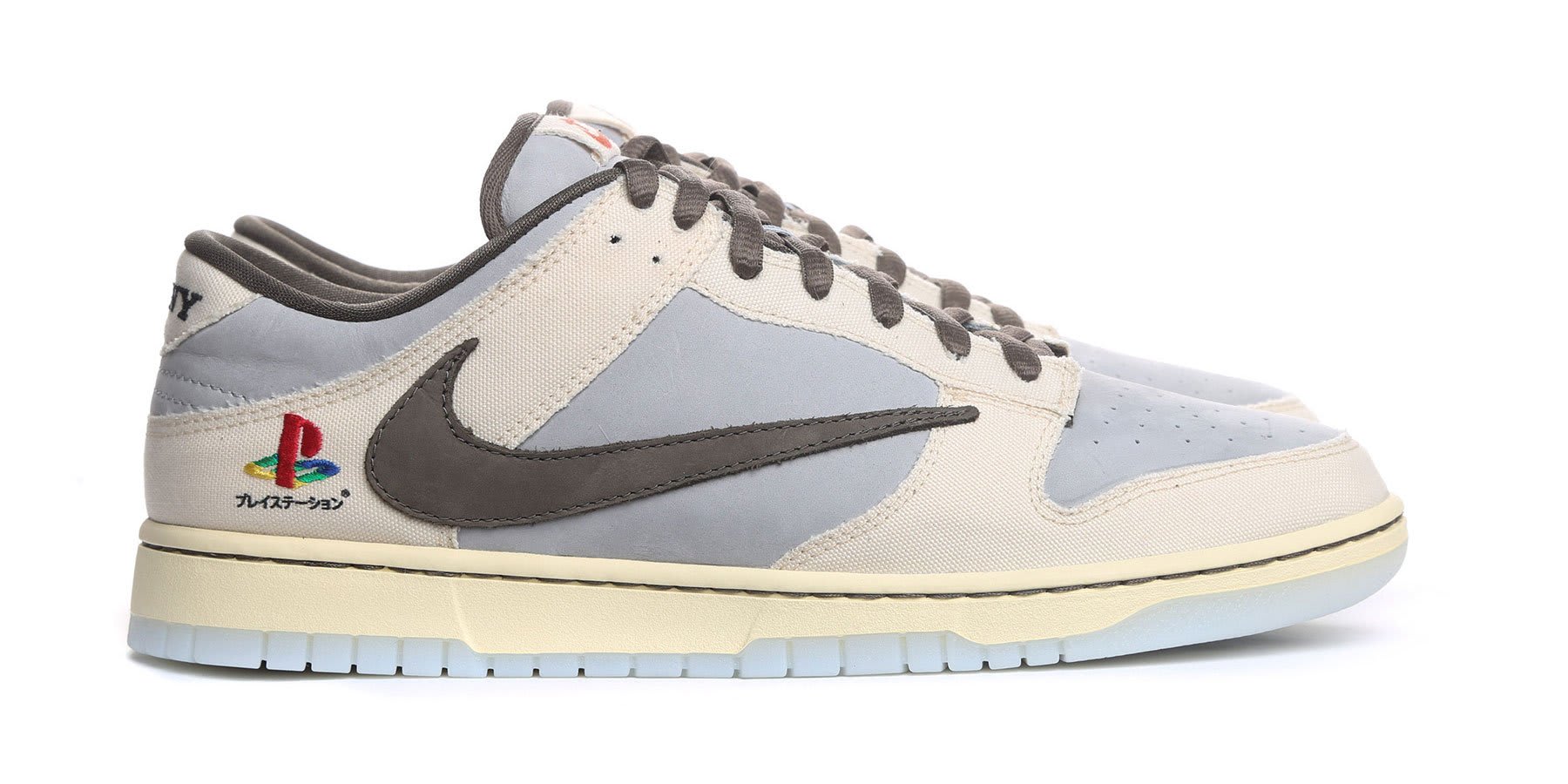 Travis Scott x Byredo Cactus Jack Perfume and Candles
Arguably the most impactful collaborator of this generation, Travis Scott linked up with Swedish entity Byredo to deliver Cactus Jack perfume and candle collaborations. Each piece is packaged with purple-to-blue gradient containers perhaps to channel a galaxy-inspired aesthetic, and comes adorned with co-branded lettering printed out in handwritten font.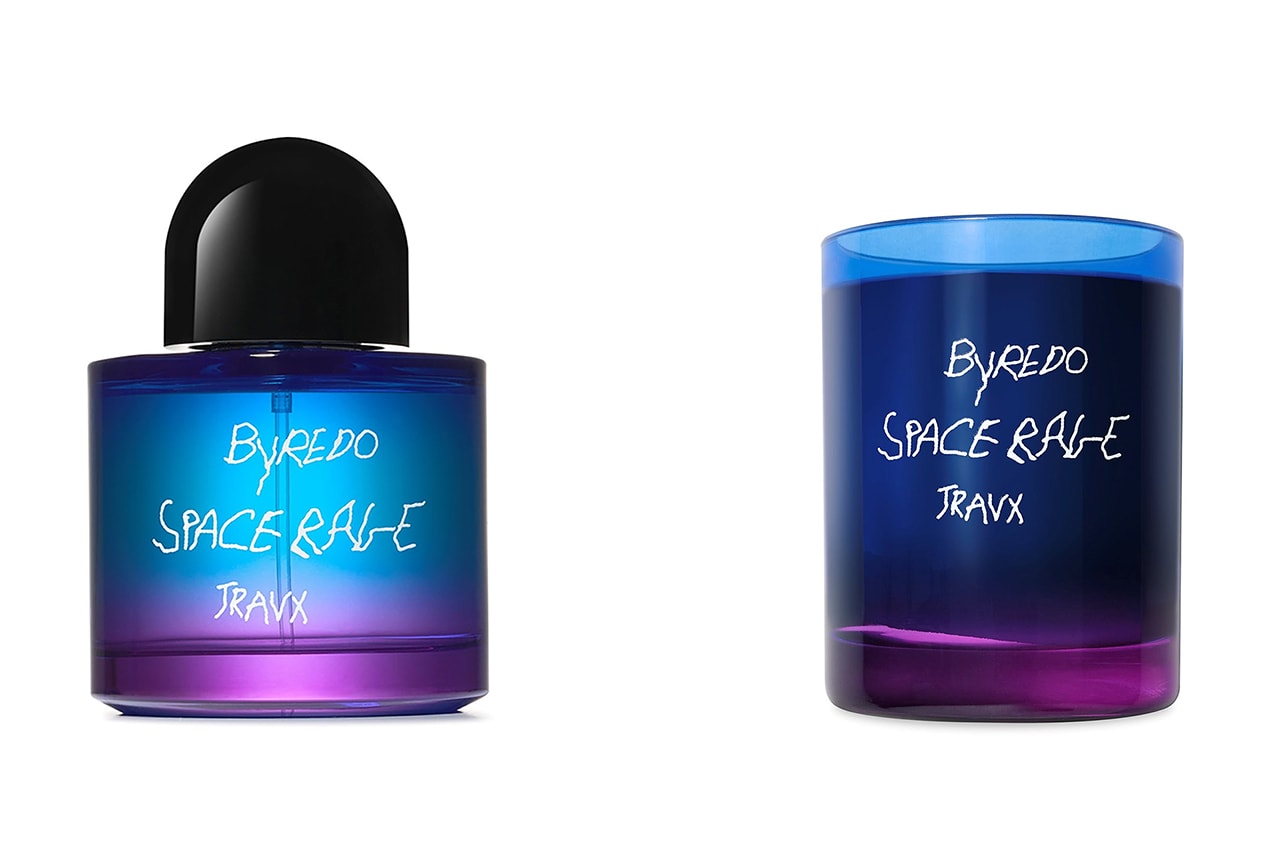 Travis Scott TENET x Cactus Jack drop tee
Travis Scott made his contribution to the soundtrack of Christopher Nolan's TENET with a tee drop. Coming in the form of a T-shirt that commemorates the collaboration and the film's release, the Cactus Jack for TENET T-Shirt features the movie's official logo and elements of the artwork for "The Plan." Screenprinted on the front, back and sleeve, graphics found on the top express a puff print quality for an added effect. Additionally, the heavyweight T-shirt has been washed and treated for a vintage look.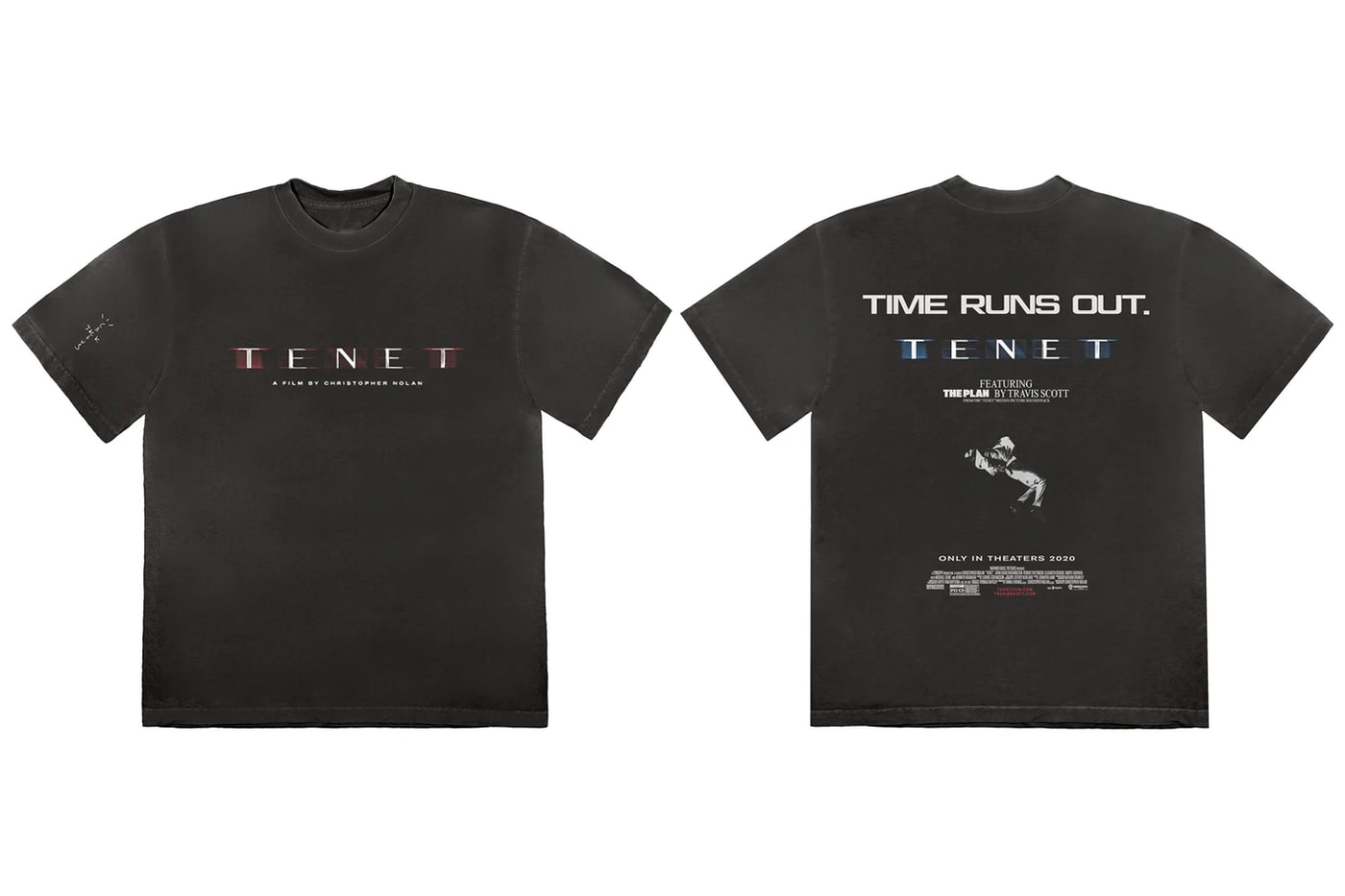 Travis Scott x Nike Air Max 270 React 'Cactus Trails'
Dropped towards the end of May 2020, the Travis Scott x Nike Air Max 270 React 'Cactus Trails' came in full family sizing. Sporting an official colorway of Light Cream, Starfish, and Dark Hazel, notable details include Travis Scott branding on the heel pull tabs and insoles. The shoe's upper utilizes a construction consisting of mixed materials such as suede, leather, and mesh that features a wavy linear panel. Finishing details consist of an adjustable lace lock on the tongue, Gold React sole, fuzzy suede on the heel collar, and mini Swoosh branding on the collar and toe box.
Travis Scott x Nike SB Dunk Low
With the amount of attention that Travis Scott has been responsible for putting back on Nike SB Dunks, it's only right that he eventually released his own. Travis Scott teamed up with Nike SB to release his first official skate shoe, the Nike SB Dunk Low Travis Scott. This design follows a similar design aesthetic as seen on the Air Force 1 Low Travis Scott Cactus Jack, featuring an array of materials and prints. Cactus Jack branding can be seen on the tongue tag and ankle collar, while mismatched Swooshes and thick rope laces on each side panel add even more flare. Unlike previous Travis Scott releases, these were not available on SNKRS and only available at select Nike SB stockists.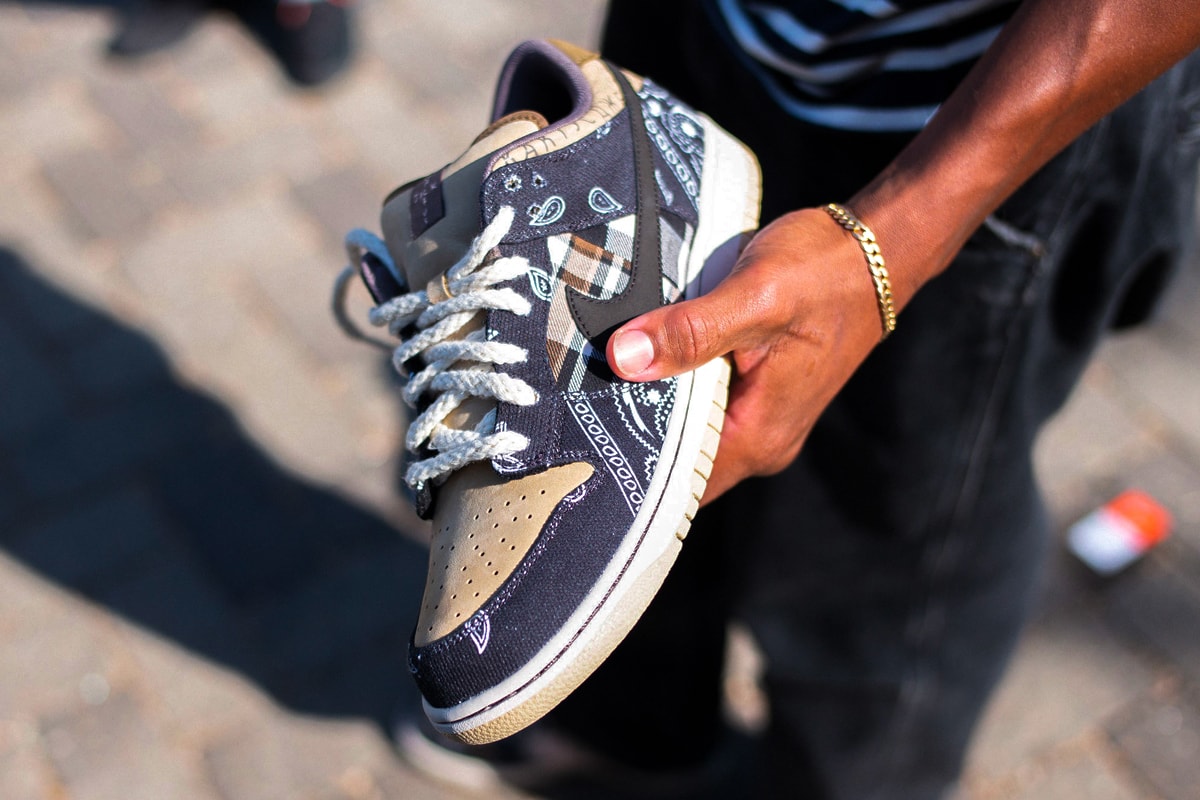 Travis Scott Meets McDonald's
A partnership between the rapper and the fast-food chain was like a melding of the merchandising minds. After weeks of speculation, McDonald's confirmed it will serve its first celebrity meal in nearly 30 years with the founder of Cactus Jack Records. The $6 collab meal included the Quarter Pounder with Cheese, bacon, and lettuce, a medium order of fries with BBQ sauce, and a Sprite. It was available to order in-restaurant, for carry-out, at the Drive-Thru, and with the McDonald's app. He even designed special uniforms for employees to wear throughout the month-long campaign.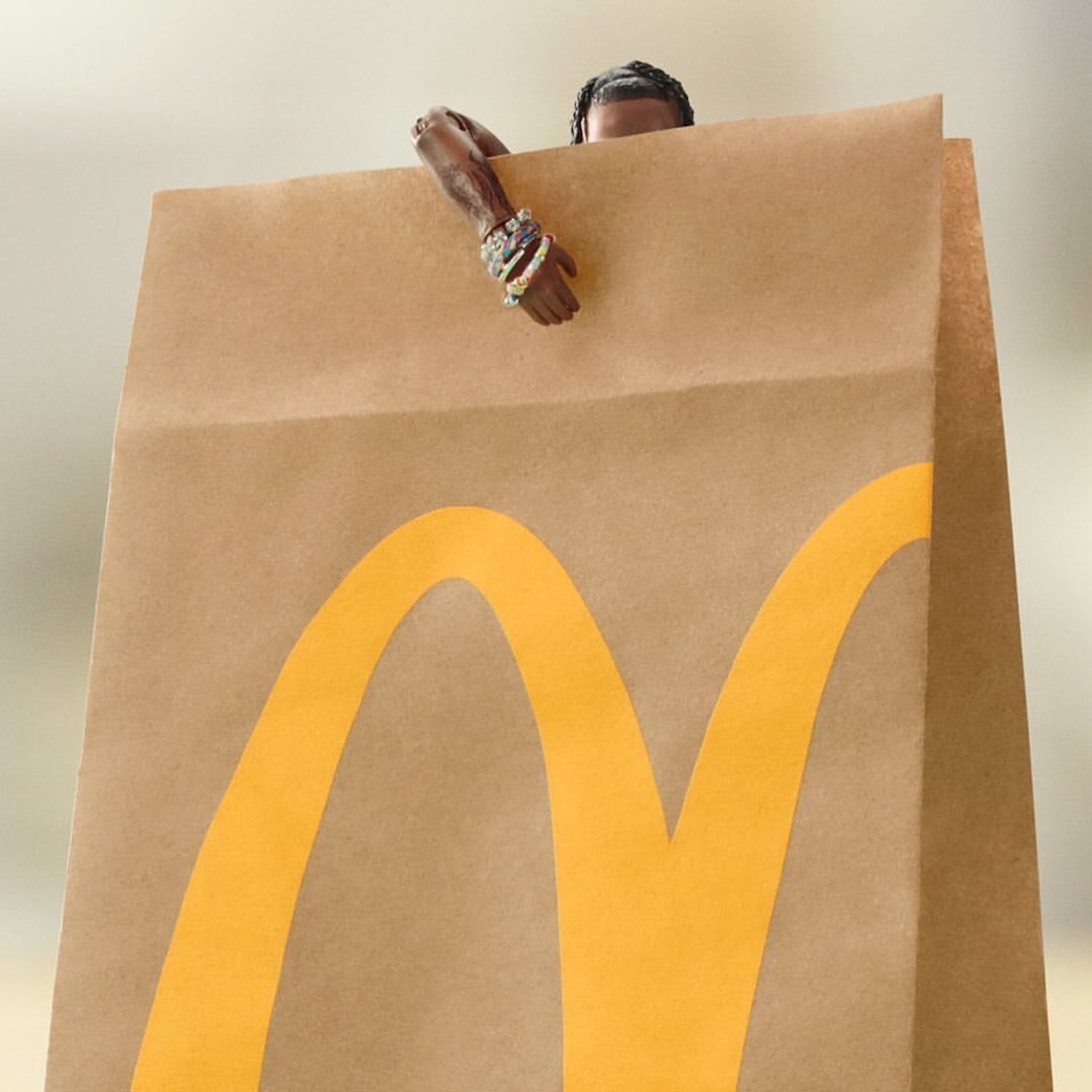 Cactus Jack x EVISU Collab
Travis Scott after having associated his "Cactus Jack" to the Swooshseveral times, collaborated with the Japanese brand EVISU around mid-July 2020. Travis Scott was found wearing the Cactus Jack take on the Evisu Multipocket Jeans via the Instagram posts, which featured a white denim base accented by pocket patches marked with multicolor seagull logos and Cactus Jack motifs. Additional detailing on the jeans were gold-tone rivets and bright brown stitching. The matching shirt jacket continued the theme but utilizing a brown paisley print on the flap pockets at the chest.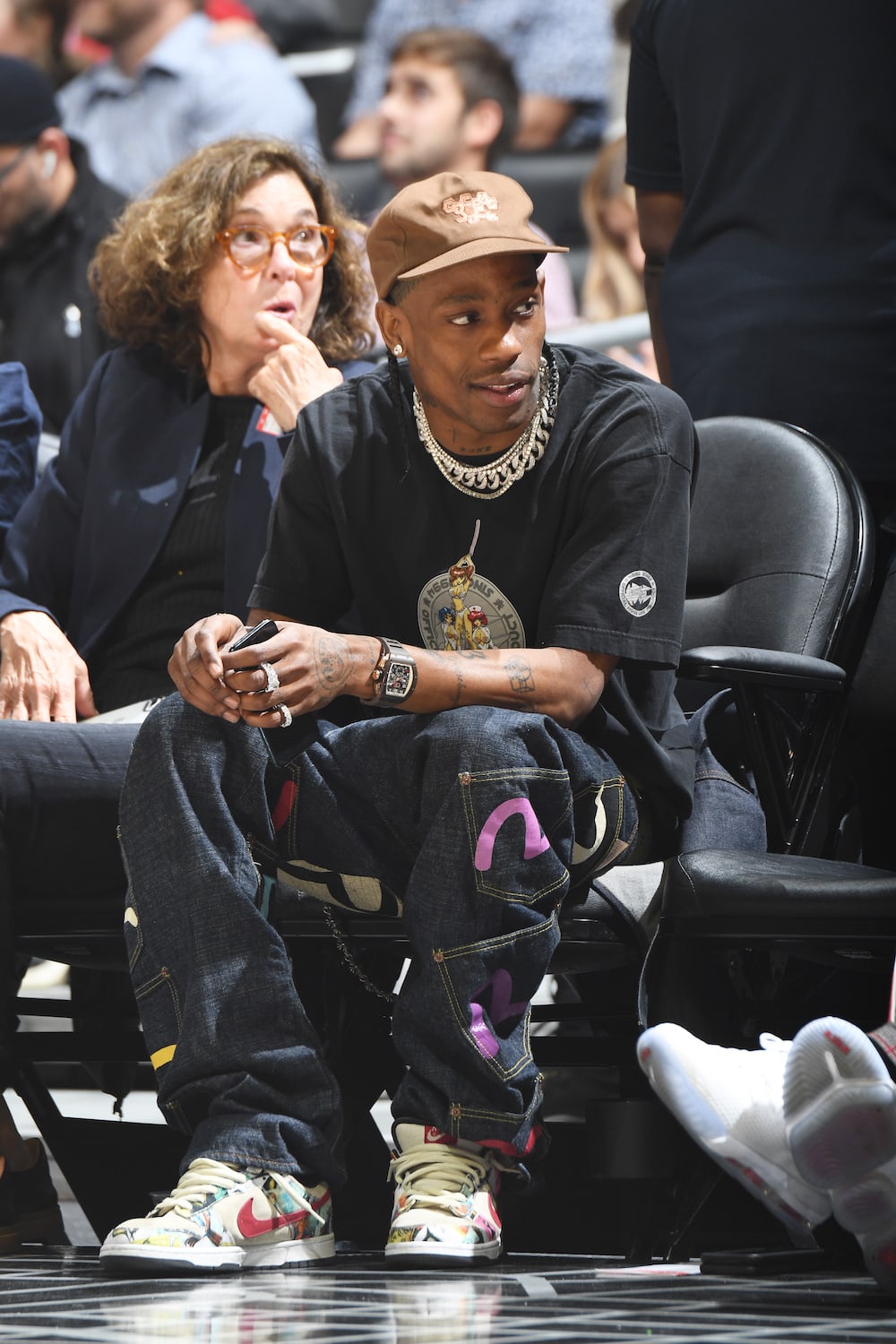 Travis Scott Cactus Jack Fortnite AR-Goosebumps Nerf Elite Dart Blaster
Anything Travis Scott puts his name on right now goes mad. As part of his Astronomical event with Fortnite, he dropped off an extensive merch capsule, which has become the norm for his projects. It featured T-shirts, hoodies, and action figures. Perhaps the most unique item he dropped was Travis Scott Cactus Jack AR Goosebumps Nerf Elite Dart Blaster which features a Fortnite skin and custom Cactus Jack packaging. The Dart Blaster retailed for $75 and released on April 23rd, 2020. Weird flex to say you have your own Nerf gun.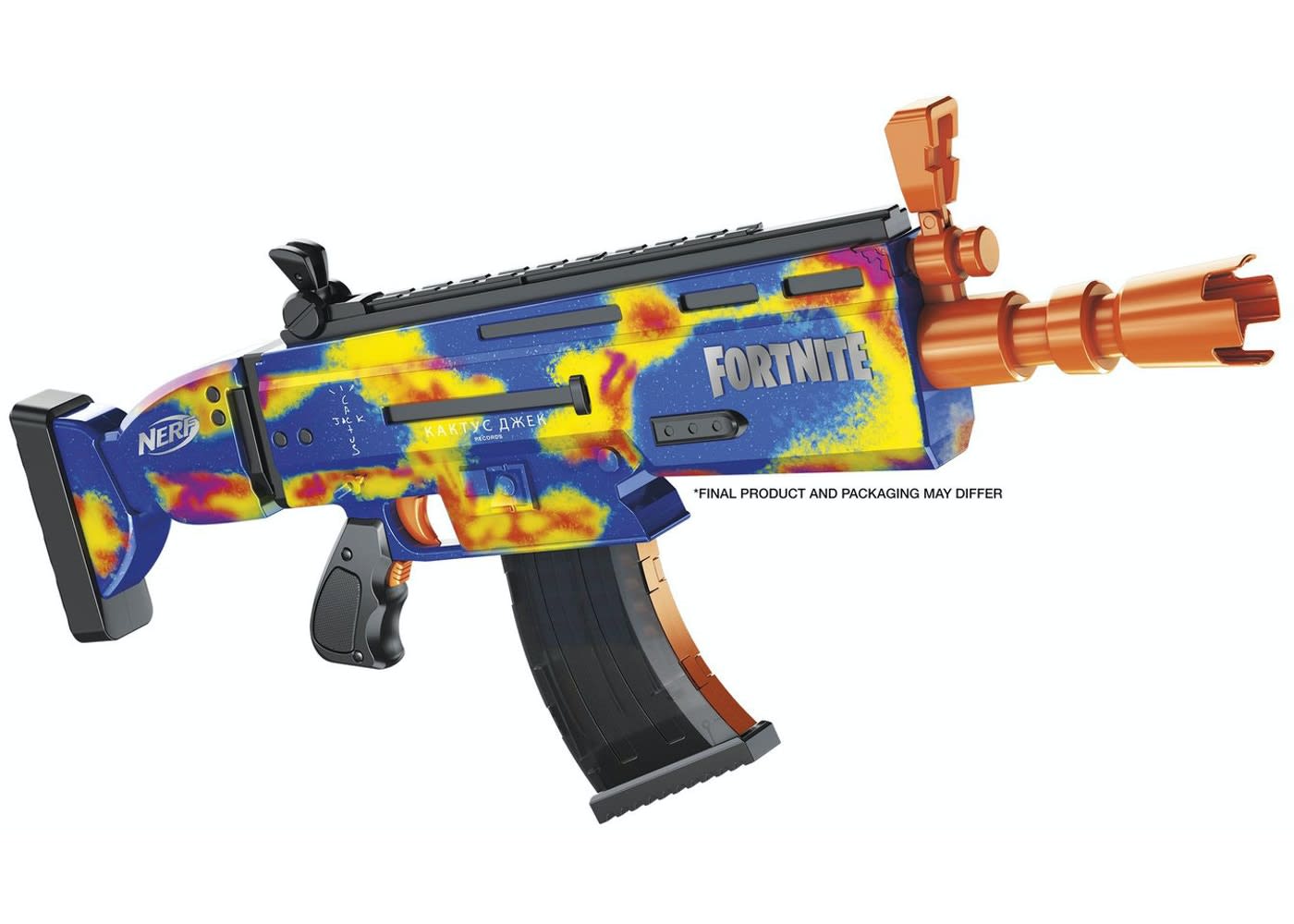 Travis Scott's "JACKBOYS" x Hot Wheels
How else could Travis Scott celebrate the release of Jack Boys? To celebrate his JackBoys release, Travis updated his webstore with JACKBOYS hoodies, t-shirts, hats, posters, bumper stickers, keychains, air fresheners, ashtrays, racing helmets, bandanas, and beanies, which sold out faster than one can shout "LA FLAME". To coincide with the album's cover art, Scott released a die-cast affordable version of the Cactus Jack BMW M3 E30 as a Hot Wheels car. He also released a sign-up sheet for anyone who was interested in bidding on the actual car.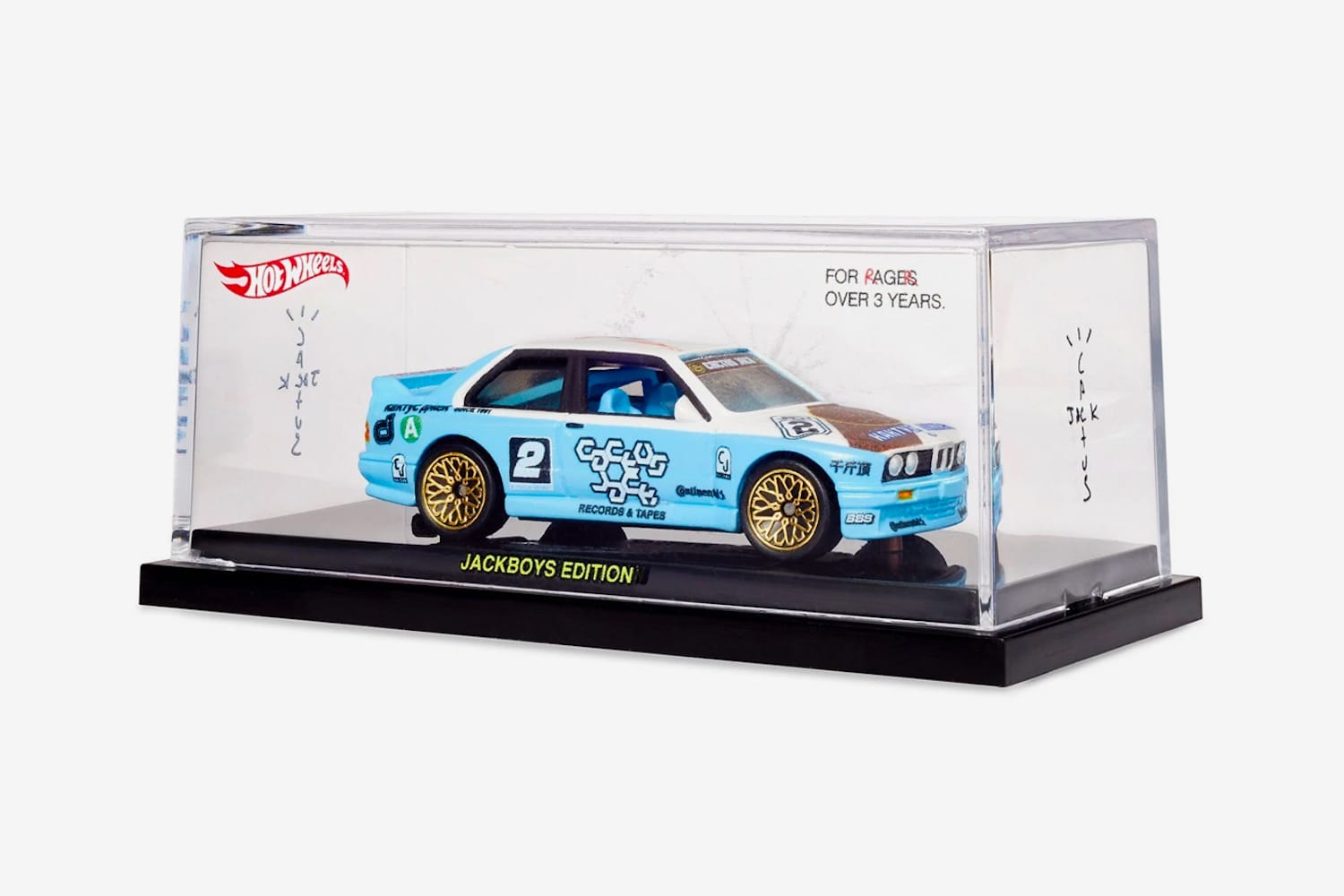 Travis Scott & Lebron James' New Collaboration
The worlds of hip-hop and pro sports collided as Travis Scott and LeBron James teamed up for a special collaboration celebrating the 2020 high school graduating class. The result of the joint effort was a limited edition T-shirt designed by Scott which was available for the next 72 hours only. The top features the handwritten message of "We're all in this together," in addition to a hand-drawn design of Scott's Cactus Jack logo and James' Uninterrupted motif, merged together.
Fortnite hosted a psychedelic Travis Scott concert and 12.3M people watched
What Scott and Fortnite-maker Epic Games delivered, however, is a gloriously surreal "astronomical" event, with an enormous, kaiju-sized Scott avatar looming over players and teleporting around the venue while the visuals around him get increasingly psychedelic. Players who tuned in were treated with a gigantic version of the rapper stomping around the map as fire rained down on them, they were shot up into space, and shot down into the ocean. It was something truly unique that pushed the boundaries of what a "concert" could look like during a global pandemic. Players were also given the option to purchase special in-game skins and items inspired by La Flame. In addition, Travis released tons of merch on his online shop throughout the week after its premiere.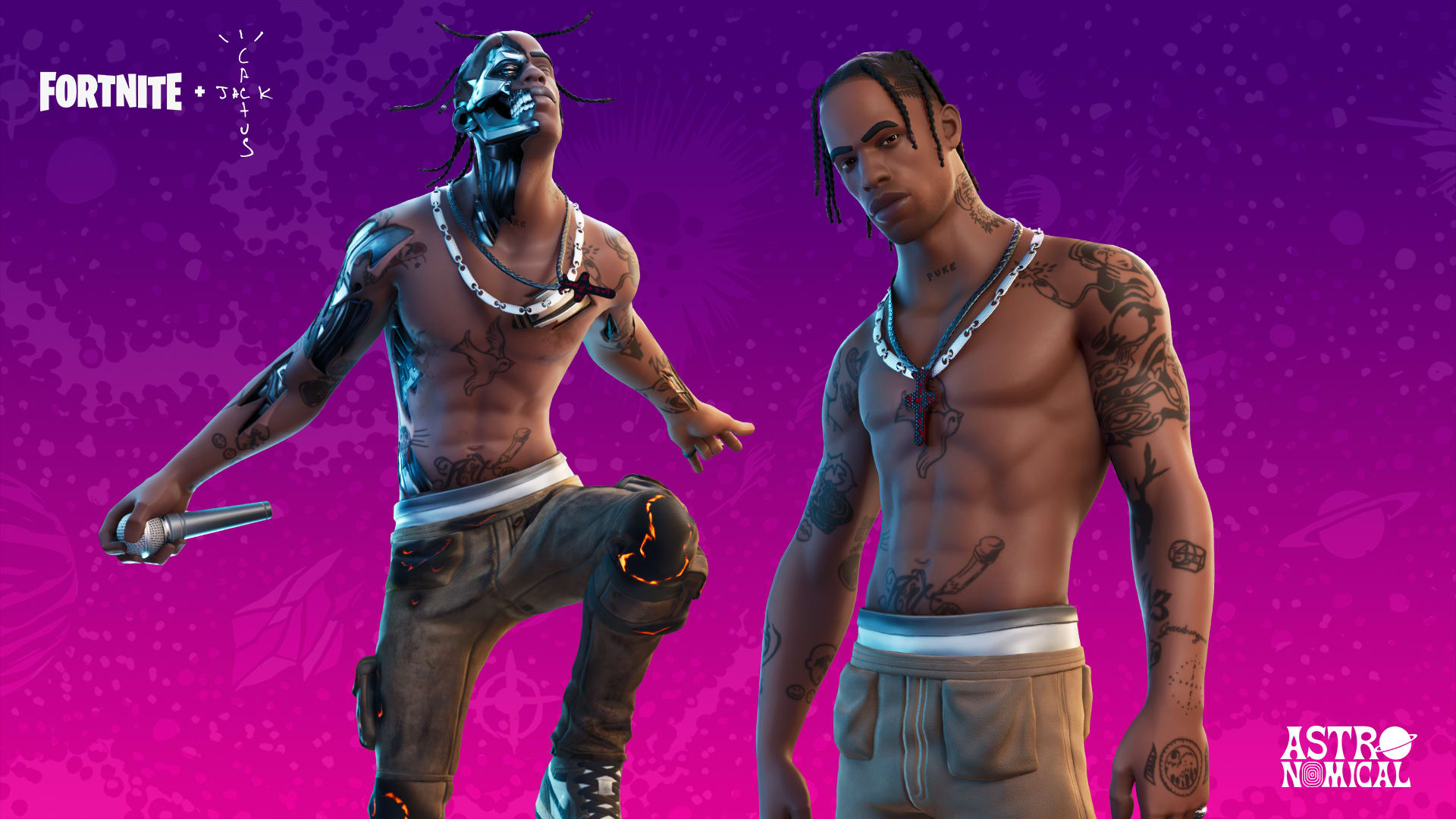 Travis Scott x Houston Rockets
Travis raps "Packin' out Toyota like I'm in the league," on the intro to his critically acclaimed Astroworld project, a homage to the arena of his hometown's Houston Rockets. He's also a courtside mainstay throughout the NBA season at Rockets home games. Astroworld is actually inspired by the now-defunct Six Flags Astroworld that he frequented as a child. Things came full circle for the rapper when he began a partnership with Houston's NBA team, the Rockets, in 2020. He's such a big fan that the team even had an official Travis Scott bobblehead giveaway night in February 2020. Previously, Travis has worked with the team on an official T-shirt giveaway.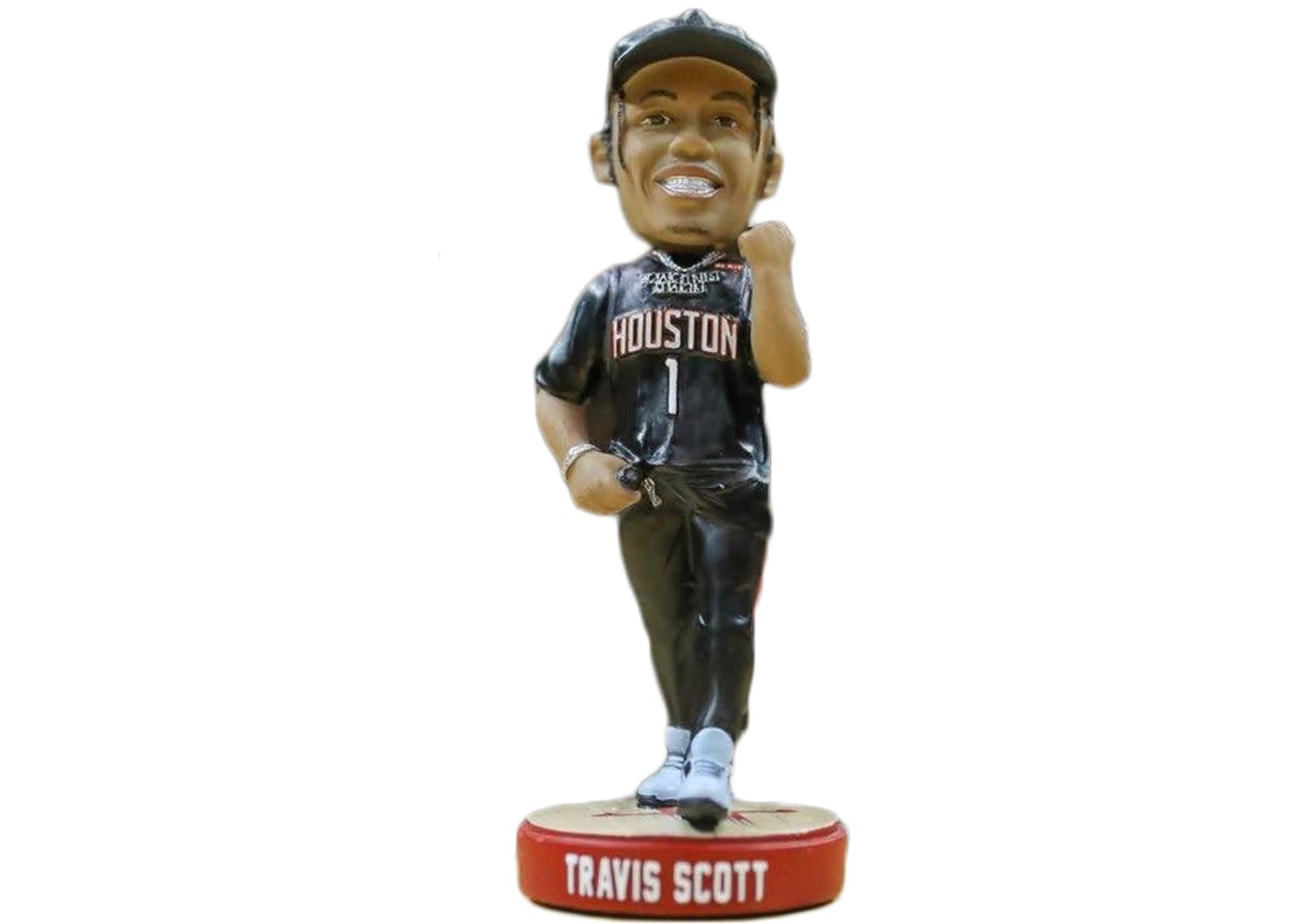 Clearly, 2020 has been an amazing year for Travis Scott. He has been all over the place, extending his horizons and forming collaborations with brands like Mcdonald's, Sony promoting PlayStation, Nike, and so on. He has really claimed this year under his name. There doesn't seem to be anything off-limits for the Houston rapper when it comes to collaborations and with a fanbase as passionate as his, it is pretty much guaranteed that no matter what he does next, people will be talking about it. This year we have witnessed some impressive collections by Travis Scott and are looking forward to more such collaborations in the year 2021.
For Further Updates
Keep Following
Related posts
Hype Ryno is set to Re-define Indian Sneaker Market as we know it
At a time when the sneaker game  is rapidly gaining popularity, and more and more resellers and collectors are becoming a part of this ecosystem, The lack of a proper Authentication system and resale forums have caused inconvenience to a lot of enthusiasts; but not…
Upcoming Yeezy Releases For 2022
As we step into 2022, the past year hasn't exactly been a cakewalk. The virus continues its presence with habitual lockdowns and strict norms all over the country. Despite this, the sneaker culture slowly but surely experienced a good number of new collaborations, album releases,…